Sometimes life sucks. It's okay to admit that. While not every moment in life is designed to make you go bat shit crazy, there are those occasions when you have one last good nerve and someone or something is plucking it.
On those days when everything has gone pear shaped, the dog chewed the hell out of your favorite shoe and you want to sucker punch your spouse just for saying "How's my oogly woogly snuggle bunny love muffin doing?", you need to de-stress and relax. Breathe in, breathe out . . .
While I can't totally eradicate stress and mayhem from your life, I may be able to help make your day a teensy bit more tranquil. Midlife-A-Go-Go is giving away Incense Gift Sets, one each to two (2) lucky winners*!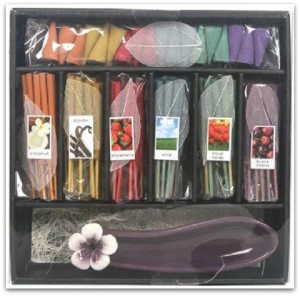 This incense gift set features an assortment of 48 incense sticks, 18 incense cones and a cutesy purple ceramic holder. Picture it: you can burn your stress away as you allow the aromatic fragrances of coconut, vanilla, strawberry, wind (wait…what? wind?!?), floral fields or black cherry to transport you to a place of tranquility.
Entering is easy. Select one or more of the options below. That's it! The giveaway ends Thursday, September 3, 2015 at 12:00 a.m. Eastern time.
a Rafflecopter giveaway
*Entrants must reside in or provide a mailing address within the contiguous United States. Two (2) winners will be selected at random on or about Thursday, September 3 and will be notified by Friday, September 4, 2015. Winners must provide Midlife-A-Go-Go with a complete mailing address. Email or mailing addresses will not be shared without outside parties.