I awoke in a bed that was not my own. Swaddled like a human burrito in the wine-hued duvet covered in large flowers, I tossed and turned myself awake in a fog of confusion. It was the first day of 2017. The memory of pain was fresh in my mind. Was I dreaming? Or had I been dreaming? I recalled struggling to get out of bed in the middle of the night. It was a slow, arduous trek from the bed to the bathroom, barely twenty feet away. It took five minutes; the pain was that intense. I remembered. Was this normal midlife pain?
* * * * *
We were at my husband's mom's home in Voorhout, The Netherlands, for our annual New Year's Eve pilgrimage. We had arrived five days before, after spending Christmas with my Dad and family in Maryland. Jetlag had overtaken me. The day after we arrived, I slept until late in the morning. Stepping into the shower proved to be a dangerous feat that morning. I almost fell . . . three times. Luckily, I caught myself and remained upright. Phew, that was a close one.
* * * * *
On New Year's Day, I was in severe pain. As I lay in bed on my back with my legs elevated, my husband came around from his side of the bed to help me up. He grabbed my hands and pulled. I cried out in pain. And then I cried some more.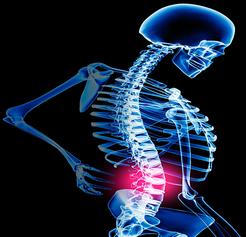 It was my back. It was one of the most painful moments of my 53 years. It felt like there was a little gnome digging around inside my back with an ice pick. Stab stab stab. It was excruciating. What in the hell happened? How did I end up in this crippled state? Sure, I'd had back pain before, but never as bad as this. The lumbar strain of three years ago had nothing on my current suffering. Apples to oranges. But what could have been the catalyst for this new flare up? I thought about my near-mishap in the shower from a few days earlier.
That afternoon, my husband, my stepson and I were to fly to England for the final leg of our vacation. But how could I? I could barely walk.
An hour later, I was in the Dutch equivalent of an Urgent Care Clinic, waiting to see a doctor. I left the clinic with six Tramadol pills and a box of paracetamol. Two hours later, my husband ferried me around Schipol Airport in a wheelchair. My mother-in-law let me borrow one of her canes, but the pain in my back negated its usefulness. The next five days were spent engulfed in varying degrees of pain. Finally, the pain subsided. Life was back to normal. Almost.
Back home in North Carolina, the torment began once again. It was time to visit my regular doctor. After several x-rays, he read the films and declared me a victim of muscle spasms. "I don't see anything on the x-rays," he stated with confidence, "but we'll have the radiologist take a look to be sure." I left his office (after receiving a shot of toradol in my nether region) with a prescription for prednisone and feeling like things weren't that bad. A spasm? Yeah, I could deal with that.
The following day, I got the call. "Mrs. Albarda, the radiologist looked at your x-rays. You have degenerative disc disease."
And there it was. Uggghhh. midlife pain
In my mind, I attributed my newly diagnosed condition to an old injury. Then, I shifted to the ravages of aging. Then I thought perhaps it was simply a midlife mishap (oh the perils of midlife pain). Next, I landed on aliens invading my body. I didn't know where to stop. That's how it is when you get news you're not particularly ready to hear.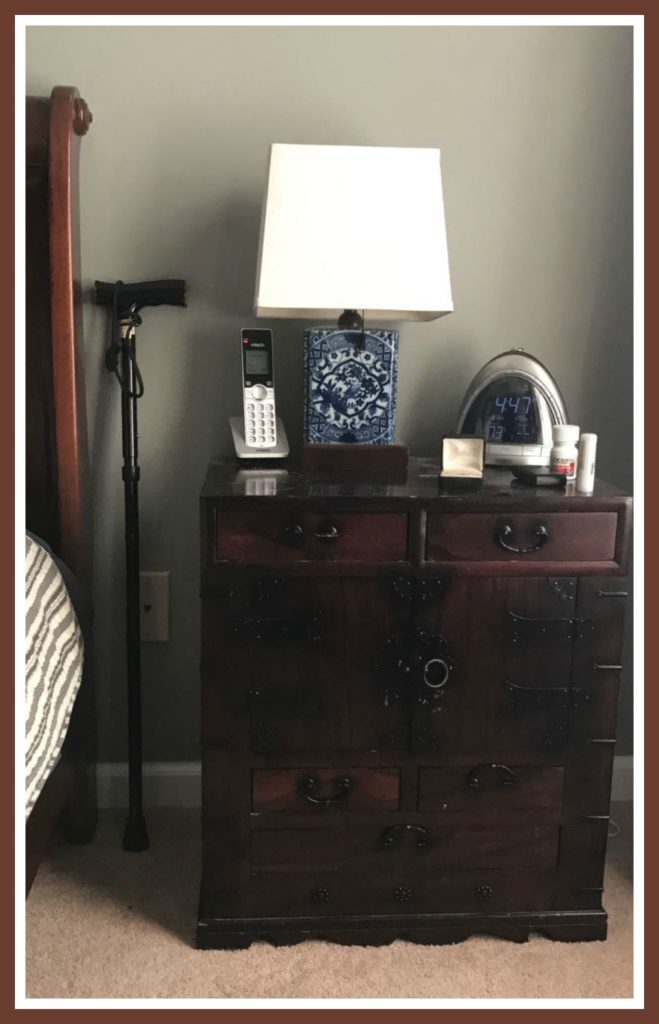 It all began over a month ago. Today, I've come to terms with my diagnosis. Nefarious? Perhaps. Is my life over? Not even close. A lifestyle change? Likely. However, I know that this is not the end of my world, the end of my life, the end of my mobility. At least not now. Today, the cane that my mother-in-law gave me is leaning against the headboard of our bed. Every night before I go to sleep, I can't help but look at it. It serves as a reminder . . . one that says no matter how careful I am, no matter how well I take care of myself, no matter what, one of these days I may need that cane again.
At the beginning of 2017, while I lay in bed wracked with the pain of a thousand knifepoints in my back, I said to myself, "Well if this is as bad as it gets in 2017, I'm good." So far, I'm golden. I've got the glow to prove it. I may have back woes, but I won't let that stop me. Life is too precious and I plan to live it. midlife pain