Every year, after the clock strikes midnight on December 31 — ushering out the old and heralding in the new — a peculiar phenomenon takes place. It is one that many have tried at least once in their lifetime and, not coincidentally, a feat at which they have failed miserably (present company included). This curious paradox leads to 1) gyms being filled to capacity for the first two weeks of the year before a decidedly marked drop off during the second half of January, b) copious quantities of 'health' foods flying off the grocer's shelves; and c) cigarette and alcohol consumption dipping to an impressive low and, subsequently, jettisoning through the stratosphere as withdrawal symptoms prove too much to conquer. And that's not even the half of it.
I am, of course, referring to the dreaded New Year's Resolutions. 
How many of you made New Year's Resolutions as you guzzled a flute of bubbly, rocked to and fro to the drunken strains of Auld Lang Syne, stared at your naked self in the mirror and winced or contemplated how much better your life was going to be in 2018?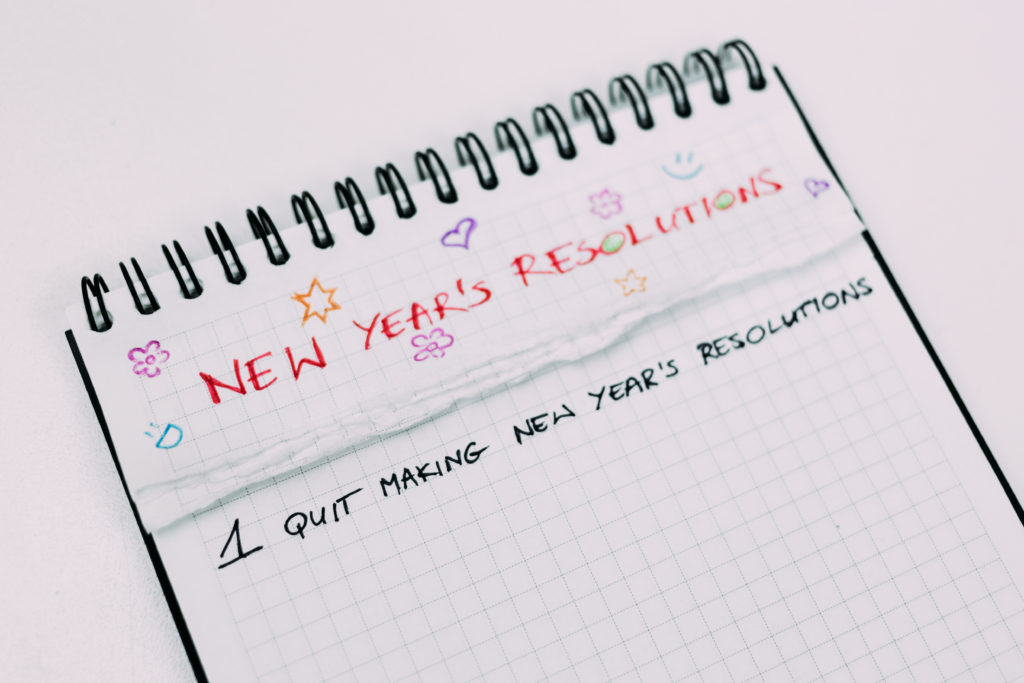 I made my last New Year's Resolution back in 2007. After that, I threw in the towel. Why? I was tired of self-identifying as abysmally foiled. I had these grandiose ideas about who I was going to be, what I was going to accomplish, and how I was going to take the world by storm. When that storm fell woefully short of cracking the '10 mph gusts" bar, I would simply call it a day and go back to the 'old me.'
One thing that I realized, however, was that old habits die hard. According to Peter Herman, Professor of Psychology at the University of Toronto, I, like many others, suffered from the "false hope syndrome," meaning my resolutions were extremely unrealistic and "out of alignment" with my internal view of myself.

In other words, I was blowing smoke up my own ass. I didn't believe what I was trying to speak into existence. So I stopped making resolutions.
Does that mean that all desires for self-improvement were abandoned? Not in the least. Now, instead of throwing two dozen resolutions at a wall on January 1 and hoping something would stick, I look at the things about myself for which I desire change and I approach them on a year-round basis, in small, manageable chunks. Going all-in, charging at a bunch of New Year's resolutions like my name is Xena: Warrior Princess, would surely spell disaster for me.
What about you? Do you dive in – no holds barred – when it comes to New Year's resolutions, only to find that you drop them like, well, a bad habit (ironic, heh) in short order?
Why not take small, weekly steps to get you moving in the right direction?
For your consumption, here are 52 ideas (hint hint: perhaps one for each week of the year) to help you make life changes in 2018 without the hassle of stressing out and, ultimately, giving up. 
Don't resolve to be a 'new you,' but endeavor to be a better you.

Wipe the slate clean, leave your grudges in the past and focus on renewal.

What's your passion? Live it. 

new year's resolutions

You know those people who suck the life out of you without giving much in return? Yeah, them… Vanquish those 'energy vampires' from your life.

Make now your defining moment.

Be happy from the inside out.

Take care of yourself. 

new year's resolutions

Share your wisdom with someone who needs it. Do it for them, not for yourself.

Love yourself immensely.

Tell yourself at least once a day that you're wonderful . . . and believe it.

Put your criticisms – of yourself and others – on the back burner.

When you need it, take a break. You're no good to yourself or anyone else when exhaustion sinks in.

Complacency has no place in your agenda. If you want things to happen, make things happen.

People-pleasers rarely please themselves. Be selfish—put yourself first.

Turn your impossibilities into possibilities.

Be authentic. Be you. It takes more effort to try and be someone you're not than it does to be yourself.

Practice gratitude and be thankful.

Contracts have stipulations; love should not. Love unconditionally.

Be the facilitator of your paradigm shift.

Flex your smile muscles more often.

Compassion. Love. Understanding. A second chance. Laughter. Respect. Give what you want to receive.

Add another link to your chain of friends.

Don't just think about it, don't just speak about it; do it.

Take chances. Nothing beats a failure but a try.

Be thankful for the good and the bad. They can both lead you to something new in life.

Talk less, listen more.

Stop what you're doing; take a long, deep breath; exhale slowly. Repeat five times. Continue with your day.

Do something nice for a stranger.

Believe in yourself.

Embrace the body you have – curves, bumps, dimples and all.

Don't give a damn.

Surround yourself with positive people.

Laugh often…from the gut.

If your inner child wants to come out to play, let her.

Pursue your dreams, not your fantasies.

Be so confident that others wonder what's gotten into you.

Pessimism or optimism – you have a choice. Choose wisely.

Know when to walk away.

Celebrate your individuality.

Reign supreme in your queendom.

Don't just exist . . . live.

Apprehension is fine; just don't allow your doubts to be to your detriment.

Stop making excuses and live your best life.

Change your surroundings.

Find yourself a mentor. Don't need one? Be one.

Pick a goal; make it S.M.A.R.T. (specific, measurable, achievable, realistic, time-based); achieve the goal; rinse and repeat.

Be the woman who says, "I did it my way."

Others are watching – be a model of self-acceptance.

Be honest with yourself. If you can't do it all, be it all, or have it all, then leave the Superwoman heroics to DC Comics.

Stop spinning your wheels. Get out of neutral and shift into overdrive.

When you succeed at something, don't let that be end. Find another mountain to climb.

Take stock of what's working for you in your life and what isn't. Purge and replenish accordingly.
What small things can you do this year that will effect change in your life?
_______
1 Williams, Ray (2010, Dec. 27). Why New Year's Resolutions Fail. Retrieved from https://www.psychologytoday.com/blog/wired-success/201012/why-new-years-resolutions-fail