[I received a gratis copy of Inviting Desire. This review also contains affiliate links.]
A couple of days ago, I was lounging poolside while on vacation in Barbados. I was armed with a couple of bottles of Magnus Irish Cider alongside my tiny battery operated purple fan—to ward off the pesky menopausal hot flashes—and I opened up an invitingly delightful, easy-to-read pink and white paperback book. I had initially skimmed through the book a couple of weeks prior and decided then and there to devote my full attention to a full-on cover-to-cover binge. That book was Inviting Desire, A Guide for Women Who Want to Enhance Their Sex Life and the author is Walker Thornton.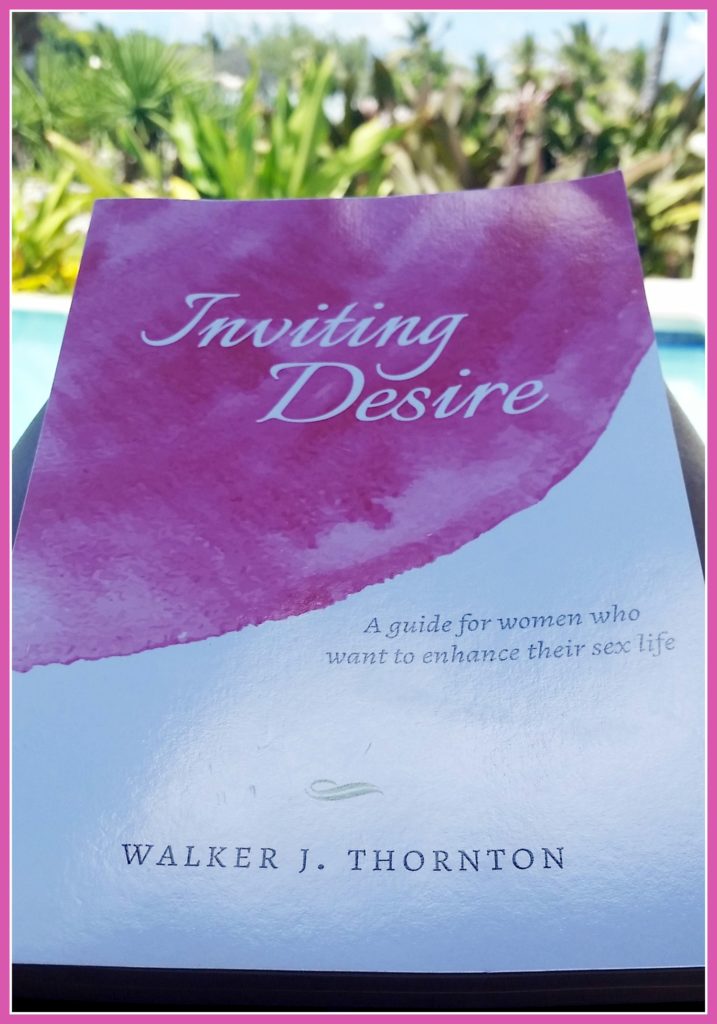 Inviting Desire is a book that completely sucked me in, and I was in no hurry to step outside the 144 pages to come up for air. I like to think of the book as an enormously empowering vehicle that has the potential to lead women on a joyous inward sexual journey of discovery. The book speaks not only to women, but it is full of helpful information specific to midlife women and our particular issues, post-menopause.
Walker, a sex educator, speaker and sexual health writer, speaks frankly and openly about everything from redefining sex as we age to orgasms to self-pleasuring. This book isn't for the timid asexualist or genophobe.
Inviting Desire is a self-help guide designed to help women embrace their sexuality and enhance their understanding and appreciation of their body. It is hoped that with this new awareness comes newfound pleasures and a life lived more sexually.
The format of Inviting Desire is broken down into 30 manageable chapters with each topic corresponding to a day of the month. From one chapter to the next, readers will embark on a voyage of sexuality with practical exercises, thought provoking points and suggestions to help midlife women (and beyond) get in touch with themselves and their sexuality.
My Thoughts on Inviting Desire
My number one hoorah for this book is that it contains solid, practical advice for women. Walker doesn't try to speak over your head, nor does she dumb it down. It's straightforward information to which many women can relate.
The manner in which the book is laid out is also a plus for me. "Day 1 – Touch," "Day 8 – Sex Starts in the Brain," "Day 22 – Learning to Ask for What You Want" . . . Each day is something new, beneficial and thoughtful. And the daily exercises at the end of each chapter is a way for women to connect to the topic at hand.
Have you become so caught up in the stories you tell yourself about your own sexuality that it hinders your ability to see past the negative? Read Day 11, "How We Think About Our Sexuality," and follow the Daily Exercise to help change your story. Curious about enhancing your sex life with toys? "Day 18 – Sex Toys," is a wonderful primer on the subject and includes information on vibrators and it's many wonderful advantages. Pretty much anything you could ask for is between the pages of this book . . . and more.
Don't let the premise of this wonderful book intimidate you. As women, we should be able to have frank, intelligent conversations about our sexuality without convulsing into a fit of giggles or clamming up out of embarassment. There is a wealth of information between the sassy pink covers of Inviting Desire, and there's something for every woman – from demure shrinking violets to the loud-'n-proud exhibitionists . .. and everyone in between.
Pick up your copy of Inviting Desire, A Guide for Women Who Want to Enhance Their Sex Life at Amazon (or by clicking the image below), and be sure to visit Walker's website where she continues to spearhead open and honest dialog about sexuality, women's health, aging, relationships and more. And be on the lookout for an exciting Q&A with the author coming soon!
Disclosure: I received a complimentary copy of Initing Desire. Rest assured, all opinions are my own. This post also contains affiliate links. This means that if you make a purchase using this link, I will earn a small commission on that sale.