Back in mid-April, I hopped on a Delta flight en route to Las Vegas for the Bloggers at Midlife (BAM) Conference at the JW Marriott. There were trials and there were tribulations. From having a glass of red wine spilled on my pristine white pants, to three days of inhaling cigarette smoke, it wasn't all smooth sailing. However, make no mistake, it was a conference well worth attending. I learned many things during the two days of informative sessions.
In between invigorating sessions on social media, branding and blogging our way through midlife, there was the Expo. At the Expo, the walls were lined with BAM Conference sponsors that ran the gamut – from a dating site where mothers do the matchmaking for their offspring to a company that has been outfitting women stylishly for thirty years to a company that specializes in homeopathic medicines. The homeopathic company that I'm referring to is Boiron.
Boiron is a company committed to the environment and produce their medicines from plants harvested from their natural surroundings. Having been around since 1932, they have a full line of medicines (over 800) that cover everything from cough and cold to muscle aches to eye irritation relief.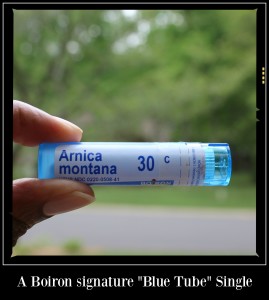 My introduction to Boiron at the BAM Conference was by way of single samples galore! I was particularly drawn to their signature "Blue Tubes," medicines which are ideal when symptoms are so specific that it's easy to select one single medicine.
Deborah Kelly wo-manned the Boiron booth and was a wealth of information on Boiron and their medicines. As I walked away from Deborah and the Boiron booth, my arms laden with pills and creams, I was pleased with the samples I had acquired. While at the booth, I entered the Boiron giveaway in the hopes of winning the basket full of goodies that was on display. After a couple of days, the big basket faded from my memory. I returned home after the conference and life returned to normal.
Until . . .

Yeah, I was the lucky big winner! >insert raucous cheers here<
Last week, my big basket arrived and it was overflowing with goodies. It was official: I had hit the midlife motherlode.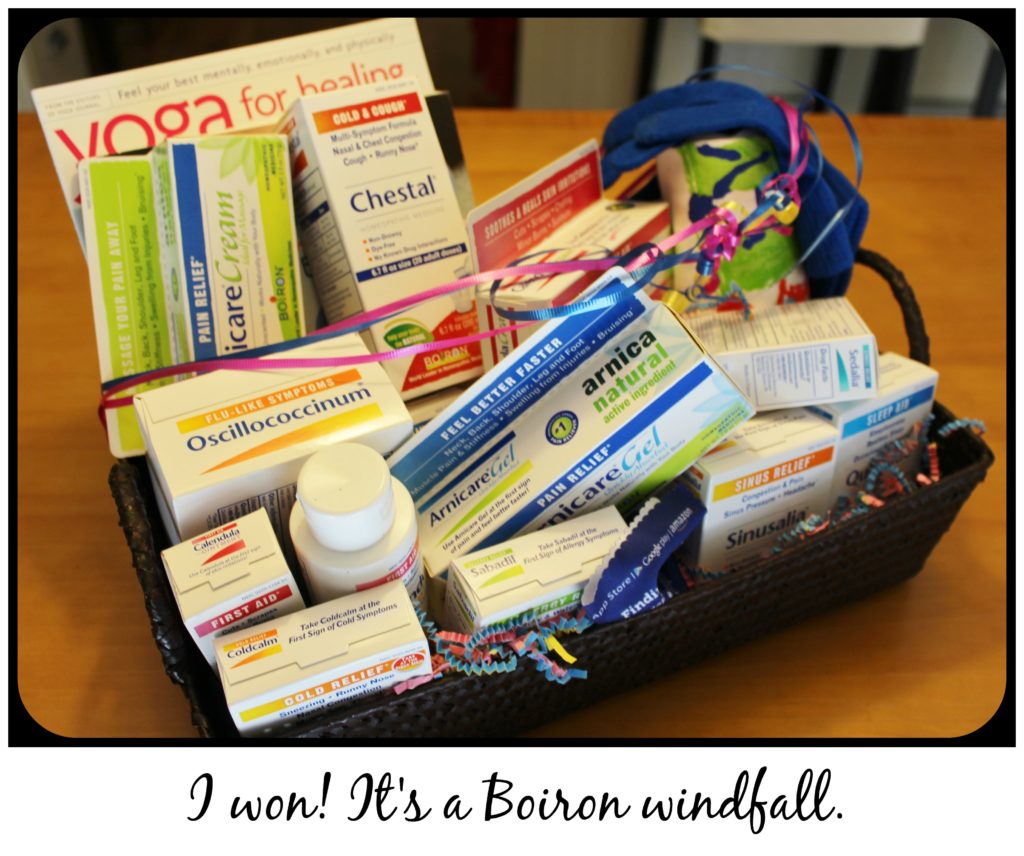 In a strange way, I'm almost looking forward to getting ill now. I've got Arnicare Gel for muscle pain and stiffness, swelling from injuries and bruising. There's Sinusalia for congestion and pain, sinus pressure and headache. I'm giddy with all of the Oscillococcinum I have to combat my flu-like symptoms. And of special interst to midlife women, Acteane, hormone-free pills to beat the heat of hot flashes, night sweats and irritability. And that's not even the half of it. Wooohooo!
Thank you so much, Boiron. I feel fortunate to have been the winner of this wonderful giveaway. I've already started using some of the medicine (Sedalia, for stress relief, fatigue, irritability, nervousness and hypersensitivity) and, rest assured, all of these wonderful homeopathic meds will be put to use.
Stay healthy, all.